South Farm Holiday Cottages in Devon
South Farm's hot tub, sauna, gym and swimming pool really will make your holiday special in Devon

3 night weekend breaks from
£250 in Lake cottage
£200 in Swallow cottage
includes Fishing WiFi and use of Hot tub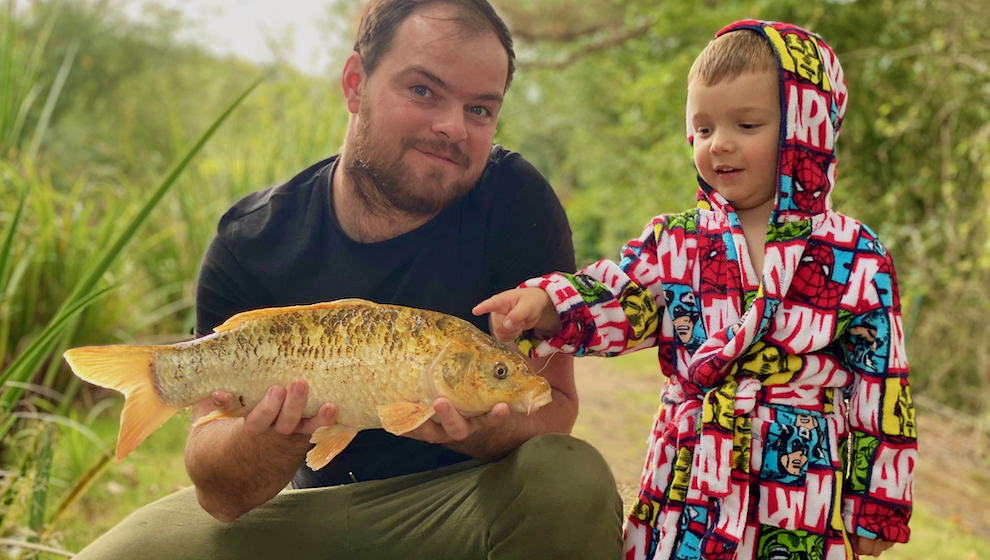 This is an ideal small lake for children looking to fish in a safe and comfortable environment where the fishing is not too difficult and very rewarding. A good confidence booster to ensure your children will develop the skills necessary to ensure success on more challenging waters, whilst appreciating the most magnificent surroundings and distant views. Carp, tench and a perch can be caught in this lake. A perfect lake to give beginners a great fishing holiday.
This lake is where the larger carp hang out. Even so, it is still possible to catch up to twenty fish a day. As well as Mirrors, Koi and Common Carp there are also Crucian carp, Perch Tench Roach and Bream. Due to the size and quality of the fish, we do not allow keep nets on this lake. The biggest fish in Home Lake is a 25lb 7oz Mirror Carp.
This lake was netted in February 2018 and all of the small fish were removed. These are now being reared in Marlpit Lake. We also extended and clean out the silt this has also doubled the volume and increased the over all dimesions.
Fishing is restricted to resident only to make it a great venue for a fishing holiday.
This is our largest lake and stocked well mostly with Common and Mirror Carp up to the mid teens but mostly in the 3lb to 5lb range.Also in this lake you will catch Perch, Chub and tench as well Roach Ideal if you are happy to put in the effort, 100lb of fish can often be exceeded. We restrict the use of keep nets on this lake.
Our fishing lakes are naturally spring fed from the adjoining hills, which ensures a fine stock of hard fighting Carp some in excess of 25 lbs, Chub in excess of 6 lbs plus specimen Roach, Tench, Silver Bream Crucian Carp over 3lb and Perch all in prime condition. We are confident that you will find the lakes and their tranquil and beautiful surroundings to your liking and that you will return again and again, like many of our regulars, to seek out some of our more elusive specimens.
All our self catering cottages are very close to Home lake, Lake cottage 30m, Carp 50m, Oaktree 70m, Coshes garden 80m, Cinders cottage 90m, Stables cottage 95m and the Farm house is 50 meters add about 250 meters to get to Lower Ram
Now all of our cottages accept pets. South Farm is now the place to have your dog friendly fishing holiday.
Fishing is FREE to all residents of South Farm holiday cottages in Devon.
Day ticket fishing is available on Upper and Lower Ram lakes at £7 per rod per day. If you want to use keep nets we ask that you use our own and please ensure you dip your own landing nets in the tanks provided at the gate to the Lakes.
Parking is available next to the gates of the lakes and we would ask you to purchase your ticket from the South Farm office.
Tickets are restricted to six day tickets a day and from 1 hour after sunrise to 1 hour after sunset.
Please use barbless hooks and unhooking mats and if you use our keepnets please can you let us see your catch before returning as we may want to move some of the fish between lakes.
Please note we have an otter that  visits during the winter months so we erect a low level electric fence December until April, which seems to be doing the job, but please be careful not to make contact.
South farm can provide great fishing holidays in Devon.
This is some of the work we do to make your fishing holiday special